Celeb choices by Yunho in The Celebrity
YH : Cesare Paciotti – Mens Shoes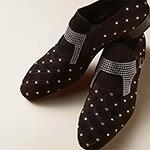 (1) Shoes comment by U-Know
Michael Jackson was the idol of one teenager who used to dance really hard in the Sangam Park in Gwangju a long time ago. Although his wish to stand on stage together with Michael Jackson has now disappeared, this teenager had been able to take part in Michael Jackson's commemorative tribute concert. Yunho said, "Although I had planned to wear this pair of shoes during the Michael Jackson "This Is It" tour, I was unable to go through with this plan in the end. This piece of treasure has now returned to me. Up till now, I have not worn this pair of shoes even once. It is displayed up on the display showcase in my house." U-Know Yunho's heart towards this pair of shoes has been sufficiently conveyed. How overwhelming a present was this for him?
Info: Shoes specially made by Cesare Paciotti for Michael Jackson
YH :Cartier Ballon Bleu Stainless Steel – Mens Watch
(2) Watch comment by U-Know
U-Know Yunho is an easy-going person. Even at the meeting to discuss the party, he appeared dressed in casual clothes. Therefore, he was a little reticent in talking about this watch. Yunho said, "This was a present from a close friend. I heard that it was quite an expensive watch, and I thought that it suit me well because it was cool without the design looking too fanciful." Because of this reason, Yunho chose this "Ballon Bleu Steel de Cartier" watch as one which he likes a lot.
Info: A watch which shows off an easy-going feel. "Ballon Bleu Steel de Cartier" costing 7,750,000 won
[trans] Celeb choices by Changmin in The Celebrity
CM : Chateau L'Evangile 1938 Vintage Red Wine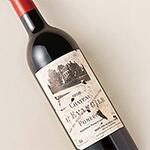 (1) Wine comment by Max
When Changmin received this wine as a present, his first thought was this, "When should I drink this wine?". This was because this was a valuable and expensive wine which was sent by Japanese fans as a present after they had heard talk that Changmin had become interested in the best wines. Changmin said, "I had started drinking wine through the influence of Super Junior's Kyuhyun, and discovered the appeal of wine. Especially, I drinks dry red wine. It seems like I couldn't bring myself to drink this wine because it was a really valuable wine and I felt like it would be a pity to drink it." When asked when he would open this wine, he replied after a long while, "When there appears a woman whom I will be marrying?"
Info: Vintage red wine which is difficult to purchase, Chateau L'evangile 1938
CM : LEGO Star Wars Millennium Falcon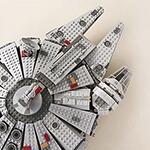 (2) Lego comment by Max
Changmin was watching the movie, "Star Wars" alone, and suddenly he wanted to try decorating his personal space (room) in a Star Wars-like theme. Changmin said, "After watching the movie, the next day I immediately went to buy the fighter plane lego and assembled it. After that, I started collecting the "Star Wars" series legos." Chamgin's most previous lego is the "Star Wars Millenium Falcon". This was a product which Changmin received as a prize when he appeared on a Japanese variety programme. Immediately after returning home, he didn't do anything else for 2 hours and completed the assembly of it. Changmin said, "Till now, I have assembled about 10 lego products and they are displayed at home. In the future, I want to assemble even more and decorate one room in a Star Wars-like theme."
Info: A very popular product in the Star Wars lego series, The Star Wars Millenium Falcon 7965
Trans:  Mug_ping