TVXQ's Uknow Yunho participated in a radio interview today on KBS 2FM's 'Lee Sora's Kayo Plaza,' January 13th. He honestly shared a few tantalizing, revealing moments in his life that gave his fans a closer look at himself.
He revealed that he is the type of man who wants only one woman in his life. He said, "It is kind of awkward to say this, but it would be good if guys are like me. A type that wants only one woman in life."
He also said, "It is said that the worse man in the world is a busy guy. If you looked at Uknow Yunho, he would be a bad guy. But if you looked at the individual Jung Yunho, he would be trustworthy and good."
While speaking of romantic relationships, his way of starting a relationship with a woman he is attracted to includes a simple straight forward approach. Yunho said, "I am very straightforward. I say 'I like you'". DJ Lee SoRa replied, "Then every woman would fall for you," making the audience laugh. Yunho added frankly, "I'd drop off a letter. I feel it is the best way to be honest. It didn't always work. It was before my TVXQ days."
When asked about his ideal type he confessed that his ideal type has never changed, it's still Jeon Ji Hyun and he watches her new drama "My Love from the Stars" too.
Of course curious minds want to know about his first kiss! He replied: "When I was a high school student, it's more like a first peck. It was with a girl that I treated like a guy. When I was leaning she suddenly kissed me. It really surprised me!" DJ Sora asked, "You treated her like a guy and she kissed you?" Yunho confirmed, "I've never been so surprised in my life!"
TVXQ's U-Know Yunho talked about the new celebrity couple, Lee Seung Gi and Girl's Generation (SNSD)'s Yoona. He brought up his SM junior Yoona, and her boyfriend Lee Seung Gi. "When I first heard the news, I thought 'The world has gotten better. I hope I can be in love like them some day,'" said U-Know Yunho.
"Their dating news came out the same day that our music video was released. It didn't affect our music video promotions that much, but just a little," he added with a smile "They both have good images and have good hearts," he continued "Lee Seung Gi is a really nice guy."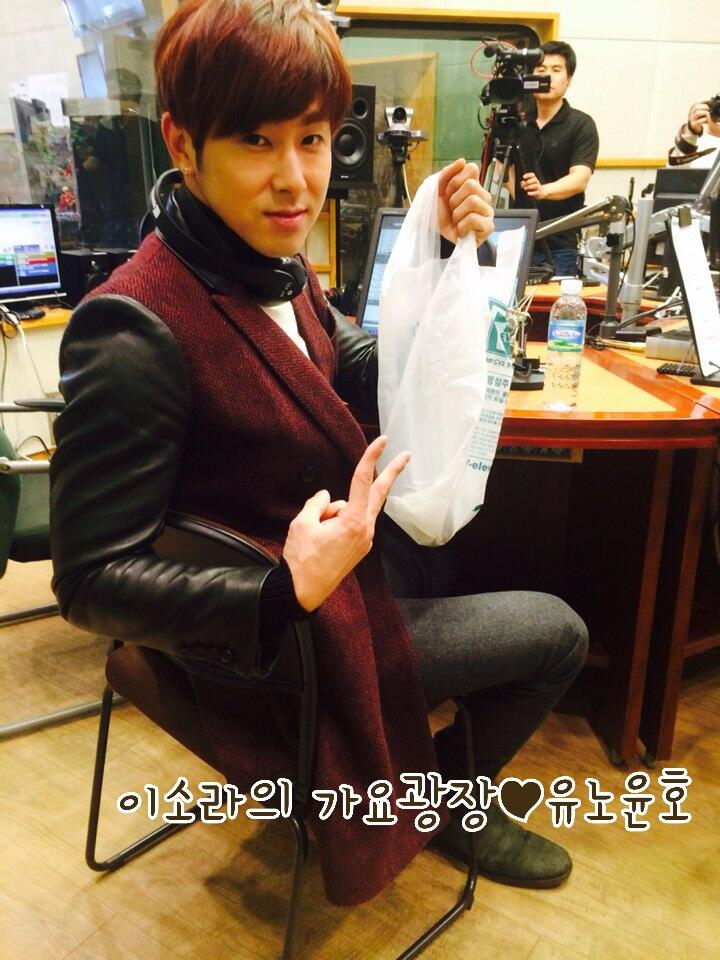 The DJ talked about how she is still single, in her 40's and told Yunho not to wait too long to date. She asked him, "Do you have any celebrities you'd like to date?" and he responded, "I want to focus on my work." When asked "How come you are so handsome?" Yunho answered, "I have not once thought of myself handsome. Changmin is the handsome one, but I think I am more charming'. Regarding the outfit Yunho was wearing, he said "I bought this a while ago because I liked it. I have worn it at the airport once and today is the second time I have worn it. I like my own clothes than the sponsored ones. I don't feel comfortable receiving stuff."
When asked what he does on his time off? Yunho disclosed his daily life saying, "I hang out with my friends at a coffee shop talking about future-oriented subjects."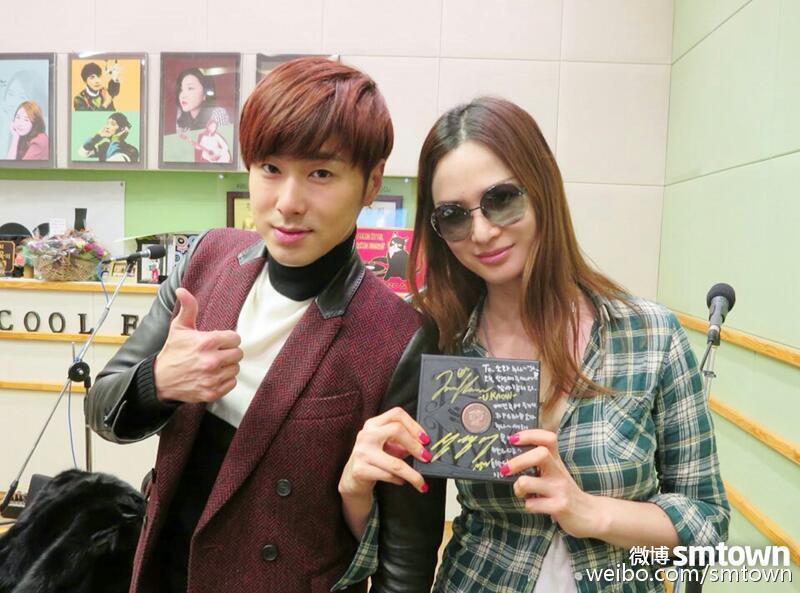 One of the funniest revelations was about his personal habits, he admitted that he smells like a baby and that he will sing in the shower while looking at the mirror! Once when he sang too loudly when he was still living with Changmin, Changmin went, "Ah… Please!!" Just as funny, he admitted that he sleeps in his boxer shorts, and his arms are crossed over his chest as he sleeps on his back!
We all know how competitive that Uknow Yunho is, and when asked about one of his skills he confirmed it. When Lee Sora asked "I heard you can arm wrestle very well?" Yunho replied "Others tell me I am good at it. I can win against everyone in Super Junior too except for Kangin."
Very short clip of Yunho singing acapella on radio.
Entire show: [no subs]