Max Changmin – U-Know Yunho, Entering the Japanese Oricon Charts at 1st and 2nd place with their respective dramas "Remarkable Power"
Following their achievements with their music, TVXQ has swept the Japanese Oricon DVD Charts with the dramas which they have appeared as leads in.
According to the Oricon charts on 27 March, TVXQ members Max Changmin took 1st place on the Overall DVD Daily Charts with the Special Preview DVD for his drama "Mimi", while U-Know Yunho took 2nd place with the Premium Making DVD for his drama "King of Ambition", showing off their remarkable power.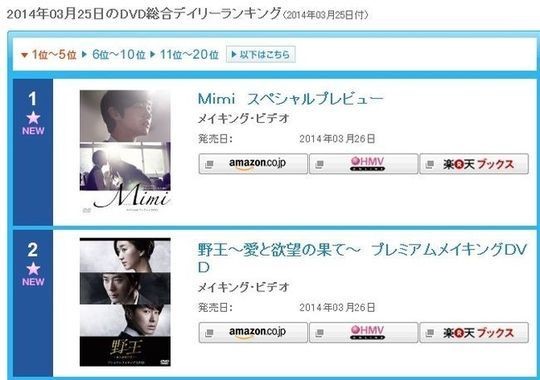 Prior to this, TVXQ's album "Tree", which was released on 5 March, recorded sales of 225,000 copies in the first week, and conquered 1st place on the Oricon Weekly Album Charts. This is the 4th time they have taken 1st place on the Weekly Album Charts following "Best Selection 2010", "Tone" and "Time", creating another record.
[details omitted about the above record being renewed after Bon Jovi's records 13 years ago]
In the Oricon Singles category, with them garnering 12 1st places, TVXQ also current holds the record for the most number of 1st places amongst foreign artistes in the history of Japan.
Translated: mug_ping
Source: Naver
TVXQ's Dramas Rank No. 1 and 2 on Oricon DVD Chart
TVXQ's U-Know Yunho and Max Changmin have taken over the Oricon chart with their respective dramas.
According to the Oricon chart on March 26, the special preview DVD for Mnet's Mimi, starring Max Changmin, ranked number one on the DVD daily chart. The premium making DVD for Yawang, starring U-Know Yunho, followed by ranking in second place.
Mimi is a four part drama that received the spotlight in Japan for starring Max Changmin as the lead actor.
Yawang, featuring U-Know Yunho, was also a hit drama that earned the viewership rating of over 20% at the time of broadcast and it was later broadcast on television and played around theaters in Japan.
Credit: MWAVE
Photo credit: SM Entertainment