Last night I had stayed up late to post some things on our WE ARE T website when Twitter exploded with the news about Changmin being at Incheon airport and heading for LA! I screamed, not gonna lie, my heart did a flip flop, and immediately I started an inner debate on whether or not I should cancel my 9:00am doctor's appointment or blow it off and go see him. Not much of a decision right? So of course I made the only decision a fan could at midnight, I searched the internet for all KAL flights leaving Incheon for LAX and based at the time he was spotted and photographed, by Daily News in Korea, I found he would be landing at about 10:00ish in the morning.
I quickly ran to my room and dug out the clothes I had purchased from Banana Republic and decided to take my chances, and go see Mr. Choikang Changmin one more time, up close, before he enlists in about a month's time (November 19, 2015). My LINE and KakaoTalk also went crazy with friendly alerts and messages encouraging me to give him a warm greeting from my international TVXQ friends!
After setting my alarm and doing some quick calculations on when I needed to head out, I joined my Bambi stuffed toy and slept like a baby until 7:00am when I jumped out of bed to get ready. Of course I would have to wear my same lucky TVXQ Tshirt I wore in May 2015 at KMF when I met TVXQ backstage and got hugged by each one! Rushing around getting a card ready, I jotted down some thoughts, thanking him for his beautiful music, telling him how much I loved Rise As One, and reminding him how much his fans love him, and I also invited him over to my house for our first TVXQ party on Saturday, October 17th, since we are going to be watching the WITH concert and T1ST0RY blurays! Yep, I figured he would get a kick out of the invitation! Heck, we are going to be making yummy Korean food, so you never know, right? (Stop laughing)!
Armed with my big Tohoshinki 10th Anniversary Uchiwa, a Rise as God album (just in case I could get an autograph), and my gifts, I jumped in my car that has TVXQFAN license plates, and headed to LAX… after 90 minutes of traffic I quickly parked and found about 6 other fans there waiting, about 4 Chinese and two Japanese. It was exactly 10:10 and the flight landed! As time passed we were joined by more fans, including two sisters who had their father drive them there, all the way from Riverside (not even in LA County)! One of the best parts of being a TVXQ is meeting some beautiful friends in the fandom. I was able to meet some great new friends and reunite with others! The two sisters and I chatted and snapped photos, and they explained to me that they were at the Biltmore hotel in May to see TVXQ, but that they had missed them because they went out a different exit. They had purchased Legos for him, and had wanted to gift it to him then, along with a present for Yunho. Now they had a second chance! I asked one of the sisters, "You know how fast he walks when he comes right? I won't be able to keep up so you will need to literally run up to his manager and give him the bag!" They offered to take mine as well, which worked out perfectly.
As passengers alighted they saw the fans, and some were surprised to see that "Dong Bang Shin Ki" was coming to LA. Two Korean men stood behind us holding up their tour sign for their customers, and one said, "I am a big Changmin fan, Changminahhh HURRY UP and come here!" (He said it in Korean, and we all laughed).
Then after an HOUR of impatient waiting, we all heard the commotion and a few seconds later, Changmin came up over the incline with his manager at his side, who was pushing their luggage cart. I called out to him, "CHANGMIN!" he looked up briefly and saw me holding the huge Tohoshinki uchiwa, and he smiled shyly and put his head down and laughed. We all continued to call out to him, as he exited to the right, there were about 10-12 girls that ran up to him. One of the airport security guards laughed and said, "OH it's a Korean star, you can tell by the fans!"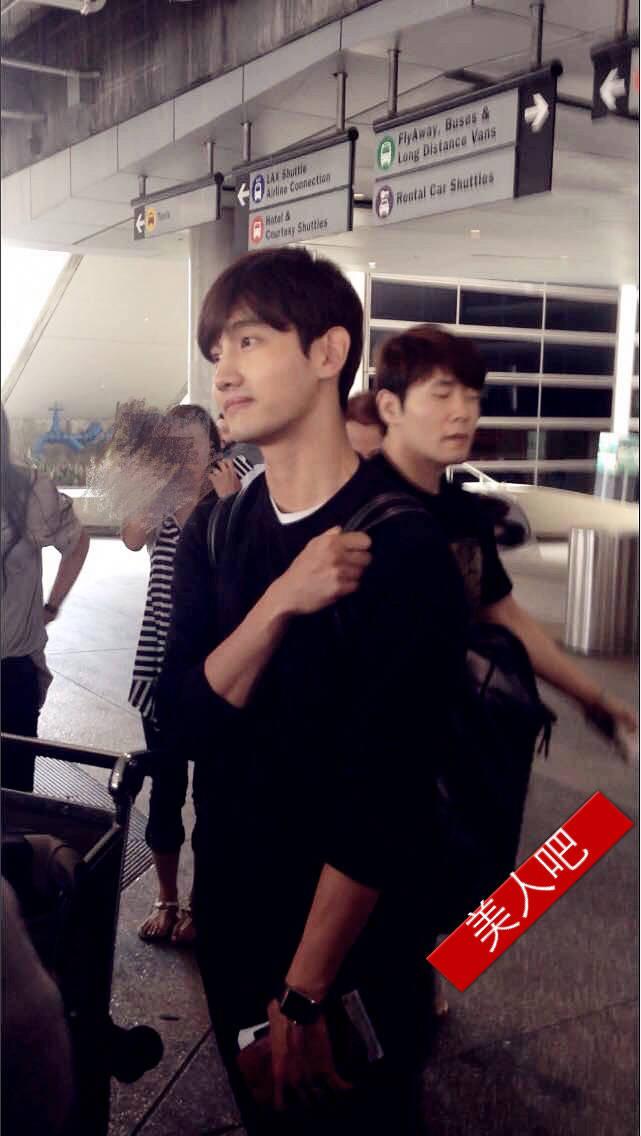 Waiting at the wrong exit
He walked out the wrong exit, because once we all followed him out, his manager and another staff member had to wait for the car. Changmin smiled gently at all the fans as they called him "Oppa" and took photos. In all of the chaos, one of the sisters was able to run up to the other staff member and pass him our gifts, and he passed them right to Changmin, who carried them himself!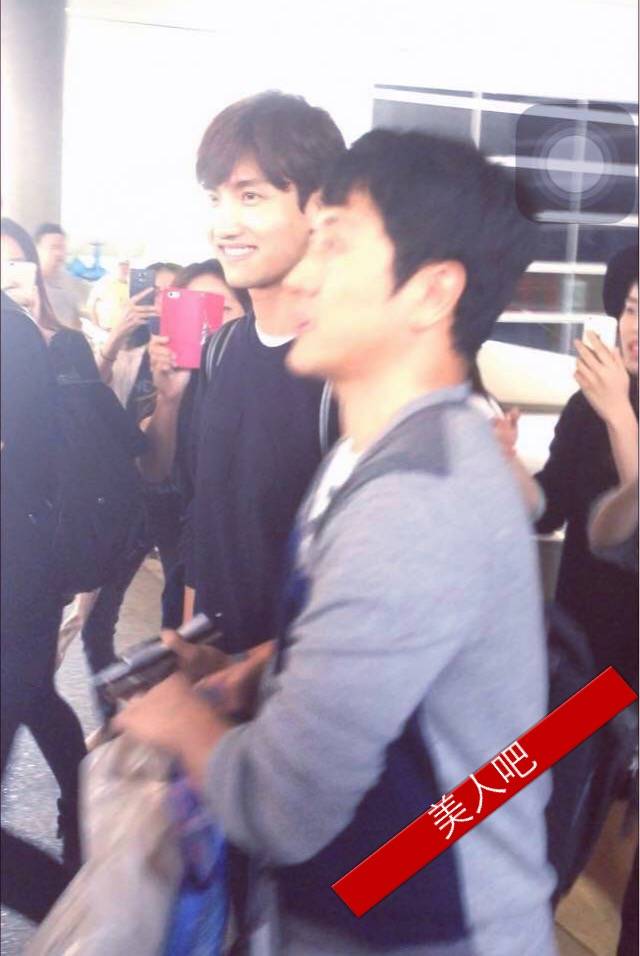 Staff accepting gifts for Changmin and passing them to him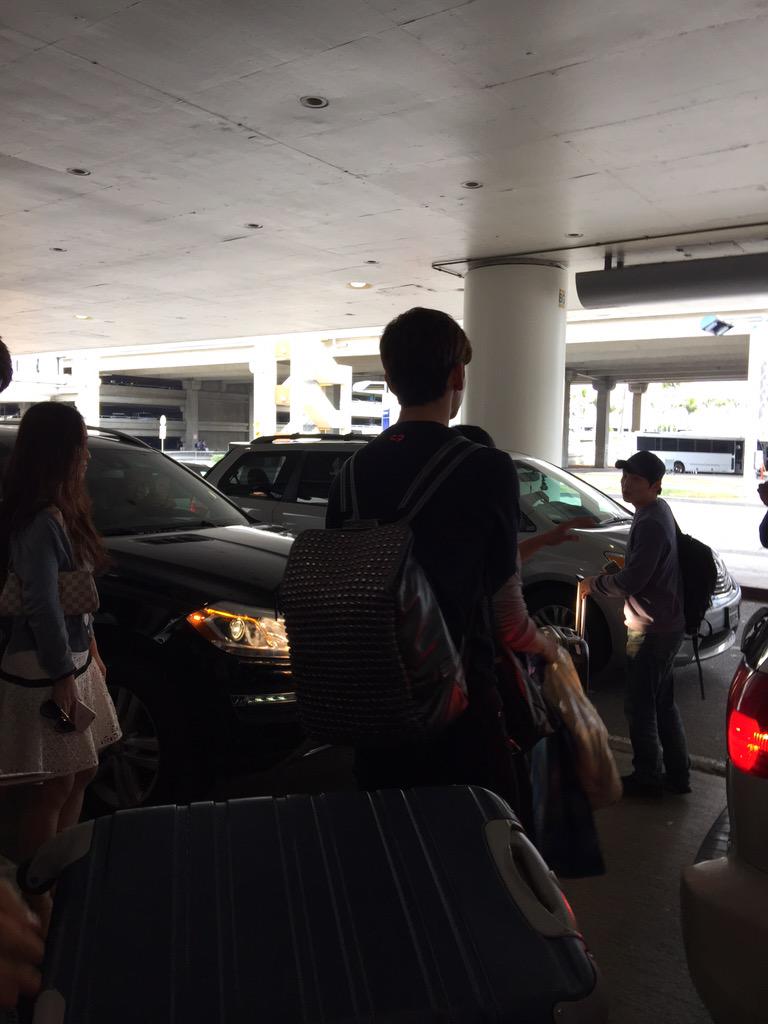 Changmin with our gifts
Another staff member came and showed him to the car which was at the main Tom Bradley exit, and we all followed him to the car. As his manager loaded their luggage, Changmin checked his cell phone, smiling sweetly the entire time as the fans called out to him. And just before they pulled away, he smiled at each of us and waved. I made eye contact with him as he waved at me, and his smile lit up my heart.
Just like that, he was gone. And all of our hearts were full, we hugged each other and exchanged Twitter addresses so we can share photos. I love this fandom! I love TVXQ! I hope Changmin has an enjoyable time here in LA for his photo shoot!

Changmin attended a Dodger Game with former SM manager, John Kim