Ranking in 10th place on Oricon charts, TVXQ confirm their status in KPOP.
In 2015, the group TVXQ! achieved meaningful results in Japan, and reaffirmed their status as the best KPOP singers in Korea. Recently in Japan, several year-end evaluation data results have emerged and the indications prove their popularity.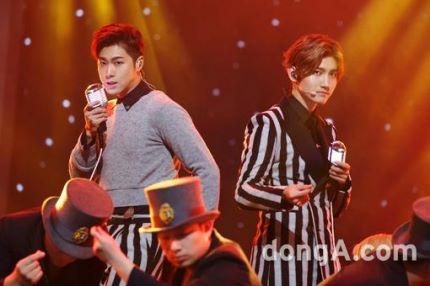 On Oricon aggregated total album sales for the year of 2015, (including DVD and BluRay), TVXQ recorded a sales of 2.89 billion yen (28 billion KWN, or $24M USD), occupying 10th rank position on the chart. The first ranking position goes to Arashi, with a sales of 14.33 billion yen, (138.4 billon won). However TVXQ is the highest rank amongst Korean singers.
Also, they swept the top ten in the well-known Japan music site "Mumo" year end chart too. For the yearly singles ranking, "Spinning," "Chandelier," and "Sakuramichi," occupied the first to the third positions side by side; also "Sakuramichi" and "WITH" are placed at #1 and #3 respectively for full album sales.
In the ticket reservation site in Japan, for the live concerts that mobilized more than 10,000 audience attendees a year, the gross advance sales and real time sales volume, the number of performances and audience size, etc. via statistics autonomously also in the calculatins for "hot live ranking," with Araishi, Mr Children, TVXQ emerged 4th. In this ranking, BigBang and EXO emerged as 10th and 11th respectively.
Also in the music site "CD and DL Data" in a survey conducted on 11,317 men and women from the agems of 10 to 60 nation-wide for the "most memorable song of the year" TVXQ's "Sakuramich" emerged as 17th. This is the one and only song amongst Korean singers in the Top 20.
Also, from February 2016, Max Changmin was chosen as the publicity model for cosmetic brand "24h" (24 hour), showing an unchanging popularity even during their hiatus period while serving in the military.
Source: NAVER
Trans: tvxq_et_moi