"Asia's superstar TVXQ! Who waited and waited was finally revived"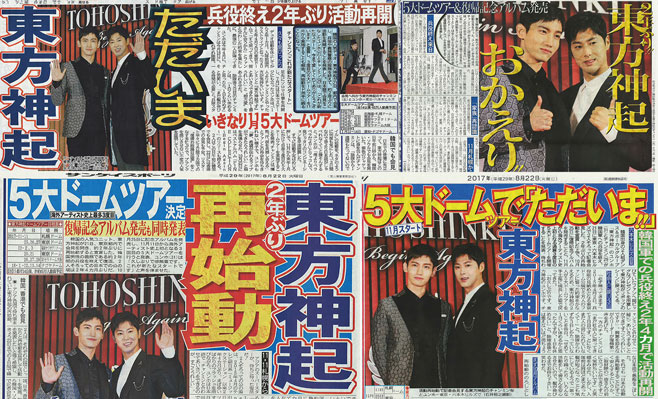 News of the resumption of activities of 'K-POP' TVXQ! (SM Entertainment) is getting attention of Asia every day.
TVXQ! Will be held on 21 and 22 in three cities including Seoul, Tokyo and Hong Kong. ASIA PRESS TOUR ', and the local media also highlighted the news of the return of TVXQ!
Japan's top sporting event, Sankei Sports, said on the 22nd floor that "Asia's superstar TVXQ!, Which has been waiting for a long time, has finally resurrected and decided to tour the 3rd and 5th largest dome in history of overseas artists," Daily Sports said, ! Has proved its constant popularity without being able to feel the blank by showing busy appearance of digging the announcement press conference announcement in three cities for two days ", and it is said that even in Nikkan Sports, Tokyo Junichi Sports, Sports Nippon, ! 'S activity record, and released collection album and detailed plan of the 5th Dome tour plan.
In addition, TVXQ! 'S press conference was held on Nippon TV' Oha! 4 ',' Sukkiri ',' ZIP ', Fuji TV' Mezamassi TV ',' Nonstop ', TBS' Hayadoki ', Asahi TV' Good Morning ' It has also been shown in the morning information program of major broadcasting companies in Japan and proved its high interest in TVXQ!
In addition, Hong Kong's leading media HK01 reported that "Hollywood Plaza Shopping Center, where the press conference was held, filled with fans and showed the popularity of TVXQ!", And also Tencent, a Chinese media, said, "Many fans filled the shopping center plaza I had an endless cheer and support. "Sina, Wang, and Sohu also once again confirmed the popularity of TVXQ!
– Google translation
http://now.smtown.com/Show/6253