Very few KPOP artists have the longevity and popularity that places TVXQ in a class of their own! September 2nd marks the 5000th Day since TVXQ! debuted, on December 26th, 2003. Even fewer KPOP groups can share bragging rights that although they are in their early 30's (Korean age, Yunho born in 1986 and Changmin in 1988), their charisma, artistry, and performance mastery continues to have fans clamouring to see them live, after having been newly discharged from their mandatory conscriptive military service.
Japanese publication, Josei, wrote of their support they provided to each other while enlisted:
At the start of enlistment, it was none other than Changmin who sustained Yunho who could not be at ease while in the army. It was said that it was Changmin who would write letters or call Yunho sometimes to encourage him on. "As I am going to enlist soon, let's work hard together." To Changmin who was carrying out activities by himself at the time, it was said that Yunho also gave him advice."
In their recent press tour they showed their strong support of each other, with Changmin promising to be more attentive of his hyung and Yunho declaring that Changmin is the most important person in his life.
Yunho, who discharged in April and Changmin who was discharged two weeks ago, recently completed their Asian Press Tour in Seoul, Tokyo and Hong Kong, attracting the attention of thousands of fans who greeted them at airports and at their PressCon venue. They announced their plans for a Japanese five Dome Tour beginning in November 2017 through January 2018, which includes Hokkaido, Fukuoka, Tokyo, Osaka and Nagoya. TVXQ! or Tohoshinki as they are known in Japan, are the only foreign artists to have performed more than three times in an "all kill" five dome tour. It is also rumored that we may see Nissan Stadium added later in 2018, which would set yet another record, as Tohoshinki is the only foreign artist to have performed at Nissan Stadium, capacity of 69,000 seats.
Yunho, who just wrapped up his mini drama, Meloholic on KBS, and Changmin will also release their own solo songs on SM Station, which will be available on digital charts, including iTunes. Yunho's solo, Drop, was recently the highlight of Seoul, Tokyo and Osaka SM Town concerts, and Changmin's solo is yet to be revealed. Fans anticipate a guitar solo, since Changmin has been seen entering the SM buildings with his guitar case.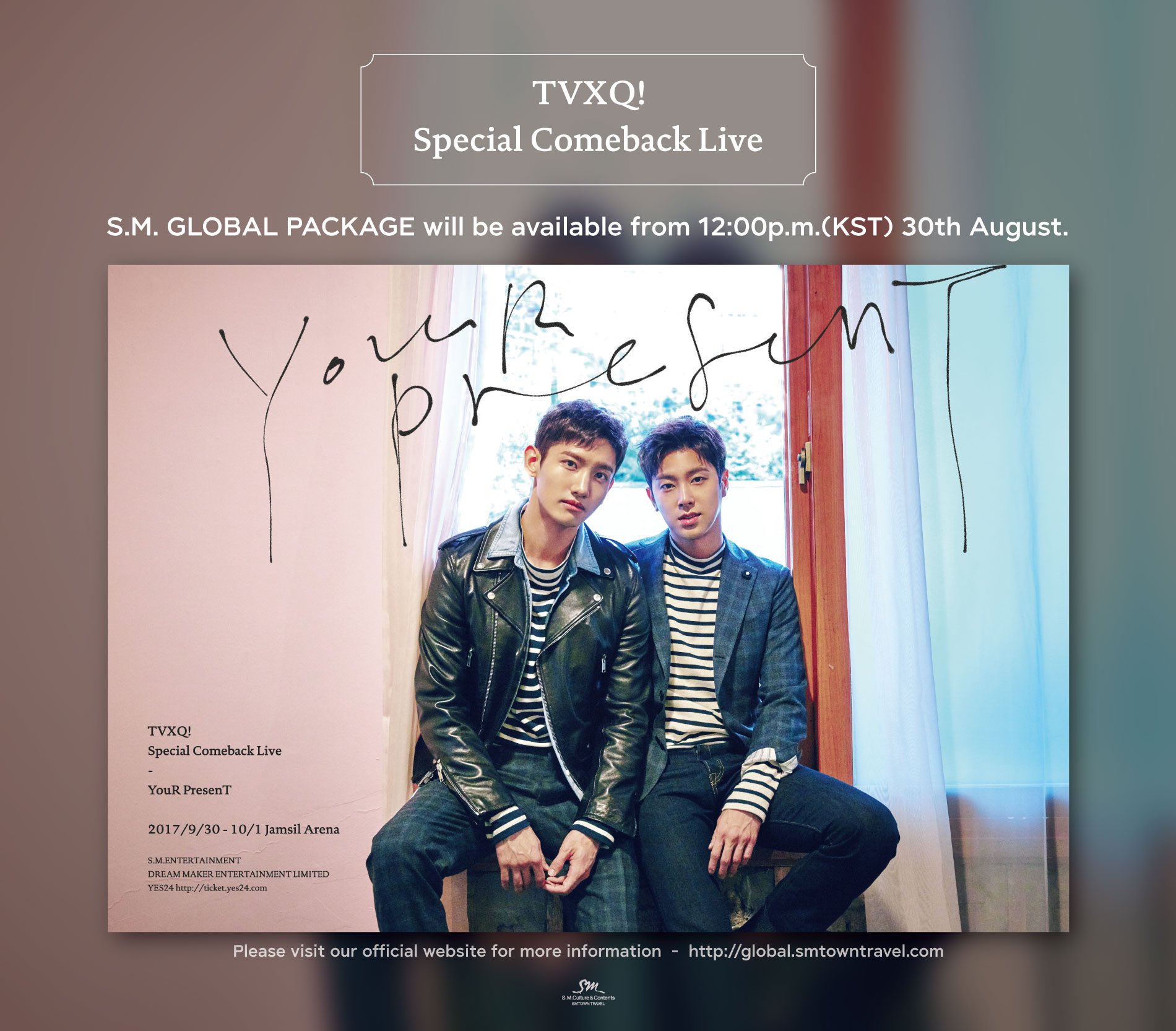 TVXQ will treat fans to a special event, "YouR PresenT," on September 30th and October 1st, at Olympic Jamsil Stadium. The two hour fan meet had fans battling for coveted tickets, as SM incorporated a strict ticket selling procedure requiring an accompanied government ID (driver's license, resident card, passport) to prevent ticket agencies and scalpers from buying in bulk. Foreign fans were unable to complete any purchases on Yes24, the ticketing service, leaving the only avenue for tickets to be obtained by purchasing an SM Travel Global Package, which sold out within seconds of going on sale, August 30th, at noon KST.
Mainichi explained Tohoshinki's popularity as:
Despite their hiatus, TVXQ's popularity in Japan has remained strong with their upcoming tour and fans booking hotels, transport. Compared to Yonsama (Bae Yong-Joon, Winter Sonata) was really big in Japan; had many endorsements etc; propelled Hallyu wave there.
Equally as impressive, the Japanese Fan Club, membership has recently increased by over 40,000 new members since May 2017. In May the membership numbers started with 35X,XXX and the deadline to register for a new membership and still qualify for the 5 dome ticket lottery was 9/1, increased the membership to over 390,000! Hundreds of thousands fans will be battling it out, trying their luck through a lottery system, to win a coveted seat in the 50,000 seated dome venues!
This is the power of TVXQ! Worldwide fans await a global tour to include the US and long for Europe as well. We can only hope that in 2018 SM blesses international fans who have long awaited TVXQ's return with more appearances and concerts around the world.
Congratulations to TVXQ! for outlasting most, and continuing to impress and entertain us with their talent and beauty!
Josei & Mainichi translations: snxy