SPUR Magazine with Tohoshinki Interview and cover topped the Amazon charts in the #1 spot for December. It was released on 12/21/2017 but is actually the February 2018 Issue.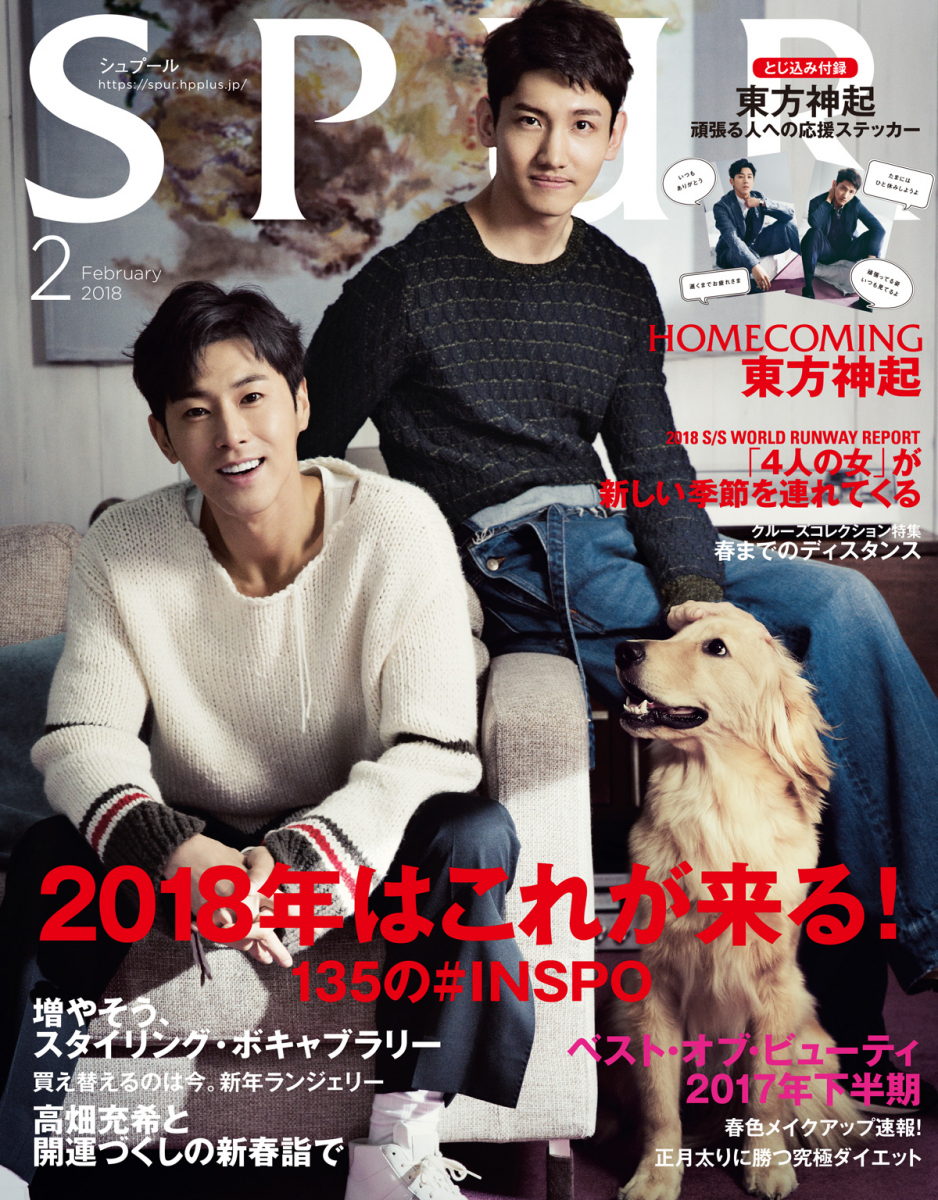 Profile: TOHOSHINKI
Famous group among Asia; members are from the left Yunho (born 1886, A blood type) and Changmin (born 1988, B blood type). They debuted in 2004. Their new song "Reboot" is the theme song for the drama "Ashita no Yakusoku." They are currently in the middle of their third 5-Dome Tour.
We are grateful for the relationship with SPUR readers.
"I am happy that I can greet all the readers of SPUR after such a long time, and through today's picture I have a feeling of "I'm Home!" In the picture it's not just the two of us, but Roland (the dog) is doing his best too!" (Yunho) "Since we have taken a lot of pictures for SPUR, I feel like we have a special strong bond with the readers. Through these pages, I want to express my feelings of gratitude for all those who waited for us!" (Changmin) Incidentally, the food that the pair has missed the most the last two years are "Japanese ramen and draft beer!"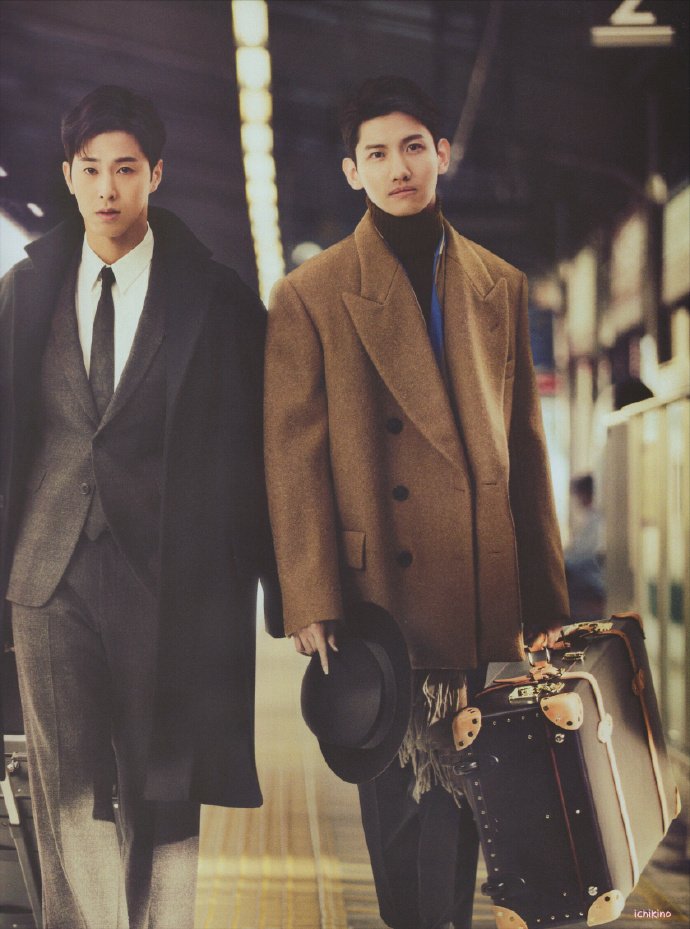 TVXQ: Reunited at last. Yunho and Changmin, appearing before us, with our leaping hearts and our "WELCOME HOME!" to their long-awaited comeback, sharper and having scaled up their masculinity. Here is the story of their return, with an indication of "showing the changes we have had," to the family who has been missing them for a long time. We love, are grateful for, and applaud this pair's new start.
Stronger and more elegantly returned TOHOSHINKI Homecoming
"In this album, we want everyone to feel the past, present, and future of TVXQ."
With kind countenances, the pair loves Roland as they are told, "We will shoot a situation where you have just reunited with your loving dog." Whenever they had free time from their solo shots they gave constant attention to Roland. As they continued to shoot in that relaxed mood, we asked them about their three new revamped songs in their new album "Fine Collection ~Begin Again~." "They are all song that have been loved by everyone up to now. We believe it is the type of album that has the past, the present, and can show the future of TVXQ. We want everyone to feel the pure TVXQ with songs from the past, but also want them to feel the improved, more masculine TVXQ through the songs being newly recorded." (Yunho) "These three re-compiled songs records our current sentiments and voices, and it makes it very familiar. The album allows one to look back on the pair's growth. Enjoy!" (Changmin)
Special long interview:
Yunho and Changmin tell of their lovely time and feelings.
Once they were separated, they began to understand the importance of their companionship.
— SPUR and fans alike have been excitedly awaiting the return of TVXQ. First of all, tell us what these last two years have been like for each of you.
Yunho: Yeah. Until now, I have been living as TVXQ Yunho, but these last two years I have been living as normal Jung Yunho, spending important time looking back on who I am. I have been working to look at both the person Jung Yunho and the TVXQ Yunho and figure out where I want to go from here. And my future looks like it will be pretty fun.
Changmin: For me, it really became a turning point. I entered a world that was completely different from the environment I had been in until then. And even though at times it was inconvenient to be in an unfamiliar life, while it was difficult, I was able to accomplish things I had previously not been able to do. It was nice because I got to read, write in my journal, and overcome some challenges.
People who see me for who I am are good. – Yunho
— Was there anything you gave each other, or missed about each other?
Changmin: Indeed. Until then, it was always natural that Yunho would be at my side. So once he wasn't, I finally realized how important that was to me. It's the same with family. Once you are separated from them you realize, 'Ahh, family is important." It was the exact same feeling. It wasn't just limited to Yunho, but it was the same with the fans and the staff too. I realized that what I had taken for granted, was not ever actually something to take for granted. So, it made me feel like I need to repay everyone, and helped me understand I need to never lose my sense of gratitude.
Yunho: Yeah. That all covers me too. Over the last 17 years or so, through the good times, the bad times, the lonely times, hasn't Changmin been right next to me? So because that was all of a sudden taken away, I would find myself thinking, "Hmm, I wonder what Changmin is up to right now?" or I would see other artists onstage on the television and think, "Man, I would love to show this to Changmin." So I thought that before I met up with Changmin, I want to show him the Yunho I've always been, plus a new me that has grown. And I felt like instead of forcing it, I want to take it slow, and by trusting each other we can become closer."
— This picture is titled "Welcome Home!" and we took it as if you were right at your own home. I believe the two of you were living by yourselves in South Korea, so tell us what your homes were like?
Yunho: Well my living room is huge, but doesn't really have any things in it. I had a concept. It wasn't on purpose. But right when I moved I decided that I wanted to make a room that was like a movie theater. So first thing, I bought a couch and a huge TV. But right after that I got so busy in the middle of putting it together. However, everyone who came over to hang out said that they really liked the space.
— Without anything, is that the opposite of your concept?
Yunho: Yeah… But it was almost like it was too austere, with the walls all white, very monotone, that some of my friends would say, "Isn't this too much?" Now, I have a room that I don't use, so I'm making it a party room.
Changmin: To play the board game, Life?
Yunho: You know it! I've had it for two weeks! (laughs) I brought Jenga and darts, and everything to my new home, so I thought I'd set everything up and put up posters, and even get studio lighting for it. That's the only room that is small. It gets crowded with just four people. But surprisingly, that gives it a good feeling, and I think it will be interesting.
Changmin: Kind of like "Don Quijote?"
Yunho: I wouldn't say it goes that far. Changmin's house has a completely different atmosphere from mine. Where I live it is in a nice, quiet residential area near nature, but Changmin's is in the middle of the city.
Changmin: Yup, the feel of my room is that I changed the color of the space little by little, now the floor of my living room is white as well as the walls. Since I like the peaceful lighting that comes from the bright light, it kind of has the feeling of a bar. It creates the feeling in the room that makes me and my friends want to drink together and cook together too.
— Is it common for Korean men to drink in their homes?
Changmin: It depends on the person, but I am on the more frequent side of drinking in my home. Even if I go out and drink a lot, I will still come home and drink some more.
Yunho: A final drink?
Changmin: Yeah. My house is full of liquor because of how much I love to drink. So when I get a bit drunk, I play music through all the rooms in my house through Bluetooth speakers, kind of like in a hotel.
Yunho: Aren't you fashionable?
Changmin: I have speakers built into the ceiling. That's probably the thing I'm most proud of in my home.
In their twenties, appearances were important, but now "being with fun people" is number one.
— Moving on, has either of your philosophies on love changed compared to when you were in your twenties?
Yunho: It has changed quite a bit for me. Especially from last year. Historically I have always liked strong-willed women. I am normally a leader, so my love philosophies reflected that, but recently I am pulled toward people with a sense of values. I want someone who will look at the real me, and be able to laugh together and tell each other jokes. That is enough. So even if they aren't especially pretty, that is ok. (laughs) It's like if the conversation is good, she will look beautiful anyway.
Changmin: Truthfully, in the past I put a large importance on outward appearances. (laughs) But recently it's more about the conversation flowing well and having similar interests. And just having someone that I can relax with. But then again, just being able to relax isn't enough, wouldn't that grow boring? I guess there are always pros and cons.
Yunho: Well look at you using Yojijukugo. *Yojijukugo is a four character compound word in Japanese that are king of like idioms
Changmin: Like I said, it can't just be relaxing, it has to be fun and interesting. That's the type of person I think is good for me.
— In terms of women's fashion, does anything spark your interest?
Yunho: More than a girl in high-heels, I like a girl who looks good in sneakers and a white T-shirt. People who look good in simple items can usually pull off any outfit. It's very attractive when someone who is always in casual clothes changes it up and puts on something nice to become very stylish.
Changmin: Since we are on the topic of high heels, I've thought about this a lot, but I feel like high heels are always worn down. I think the proof of it is that everyone who wears them are trying too much at work and so it makes me cringe when I see them because I feel like "oh they are trying too hard."
Yunho: I hear that and think the amount of people wearing down their shoes is definitely going up.
— Lastly, on the topic of your 5 Dome Tour, can you give everyone who is eager to see you live something to expect??
Yunho: The last time when we were on tour in Japan, I said "See you later!" and everyone actually waited for us. So I'm going to be standing on the stage with the feeling of "I'm home!" I want to give a warm tour where everyone can feel that "Home" is the most important place.
Changmin: Yes. I also want to make a place where our reunion is something that everyone can fully enjoy. Before, I used to get tired of work and say to myself, "I want to take a break," but during those two years of not being able to work I kept thinking, "I want to be on stage again," and "I'd love to sing that song again." Especially without any opportunity to sing the Japanese songs, those feelings were extra strong. But now that I will be able to continue singing, I am truly happy. Now I am feeling nothing but excitement in my heart to be able to work.
Yunho: I have the same feelings. I am going to work hard so that from here on out we are not just a cool TVXQ, but also a TVXQ where we show warmth and charm. We ask for your support as we strive to express our gratitude to everyone through our tour, new album, and new single "Reboot."
Changmin: We are starting another new year. We only desire that everyone will be able to live with peace and keep their spirits up!
Now, I am truly happy. -Changmin
Translation: Spencer Burhoe, We Are T Staff
Please do not repost without permission