TVXQ's Begin Again Tour came in #2 spot for KPOP acts in Japan in 2017.
Nikkei Entertainment released the top 50 artists of their "2017 Concert Crowd-Pullers" rankings and various Korean artists have had great results on the list!
1. BIGBANG – 1,022,000
2. TVXQ – 571,000
3. SHINee – 539,00
4. iKON – 463,000
5. Bangtan Seonyeodan – 309,000
The overall Top 50 list which also includes domestic Japanese artists, places TVXQ in 7th place, which is still in the top 10 and very respectable.  According to the statistics, BIGBANG came in at second place with a total of 1.022 million people attending a total of 20 concerts. TVXQ was in seventh place with 571,000 people at 11 concerts and SHINee was close behind in eighth place with 539,000 people at 29 concerts.
Considering that Tohoshinki's ~Begin Again~ Live Tour did not start until November 11th 2017, in Sapporo, and only included 11 concerts including Fukuoka, Toyko and Osaka, the nearly 600k is an admirable number by any standard!  The stop 2018 dates in Nagoya and Osaka do not count against the 2017 numbers.  BIGBANG's Last Dance tour also started in November but had 14 nights, 7 of which were in Osaka.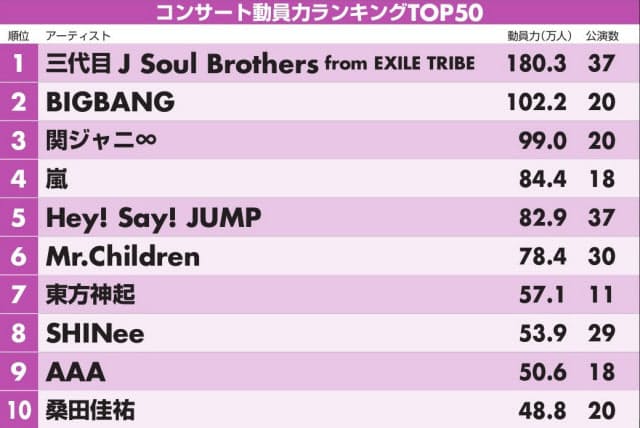 Source: Nikkei